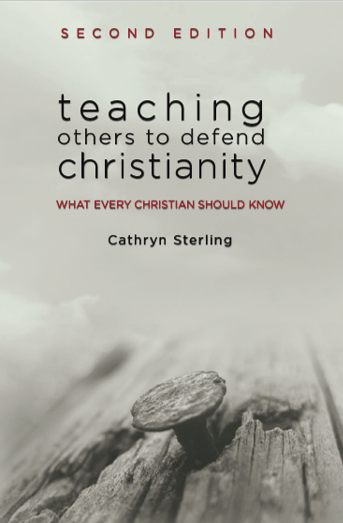 Well, this excellent book is certainly counter-cultural! While the world is telling us that religion is all about blind faith, former NASA engineer Cathryn Sterling explores the evidence from the heavens and many other areas to show that Christianity is actually true. And she shows that you don't need to be a rocket scientist to know it and share it. Highly recommended!
In Teaching Others to Defend Christianity, Cathryn Sterling provides a concise, accessible roadmap to better understanding the case for God and Christianity. Employing the same engineering background she used for years in rocket and missile design for NASA, Cathryn "connects the dots" and systematically builds the case in a way others can understand. If you're looking for a book that summarizes the case for Christian theism, look no further.
How do you explain the existence of God through science, the truthfulness of Christianity through logic, the validity of the New Testament through history, and the person of Jesus Christ through scholarship… while keeping it simple and easy to understand? Cathryn Sterling has accomplished such a task with breathtaking clarity. Demonstrating a firm grasp of all the different lines of evidence, Cathryn builds the case for Christianity in a highly accessible way. This book is a faith builder!
Order your copy of Teaching Others to Defend Christianity
eBook versions are also available!
I want to know more about the ministry and be contacted!